Mimic Dice Tower GST3d (Best for Painting)
Regular price
Sale price
$40.00 USD
Unit price
per
Sale
Sold out
Presenting the Mimic Dice Tower, a deviously charming creation that adds a touch of whimsy and excitement to your gaming experience! This unique dice tower takes the form of a cunning chest sitting atop a bed of shimmering coins, but beware—it's no ordinary chest!
The Mimic Dice Tower captures the essence of this mischievous creature with its tongue playfully sticking out, revealing rows of sharp teeth that hint at its insatiable appetite. Crafted with meticulous attention to detail, this dice tower brings the Mimic's allure to life, making it a standout piece on any gaming table.
With its clever design, the Mimic Dice Tower not only adds a dash of character to your gaming sessions but also serves as a functional dice-rolling mechanism. Simply drop your dice into the gaping maw of the Mimic, and watch as they tumble and roll down its interior, ensuring fair and randomized results.
Beyond its functional purpose, the Mimic Dice Tower doubles as an eye-catching decorative item. Its intricate craftsmanship and captivating appearance make it a delightful addition to any gaming collection, shelf, or display case. Whether you're a fan of fantasy-themed games or simply appreciate unique and quirky designs, the Mimic Dice Tower is sure to captivate your imagination.
Unleash the whimsy and surprise of the Mimic Dice Tower, transforming your gaming sessions into memorable adventures. Embrace this treasured piece that combines functionality, artistry, and a playful spirit, and let the Mimic guard your precious dice in its charmingly deceptive embrace.
Share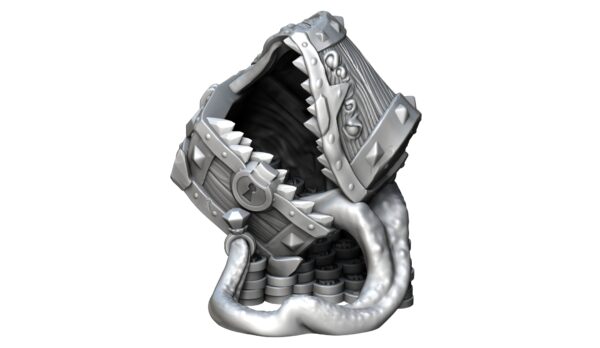 Free Shipping

Free shipping on orders over 49$